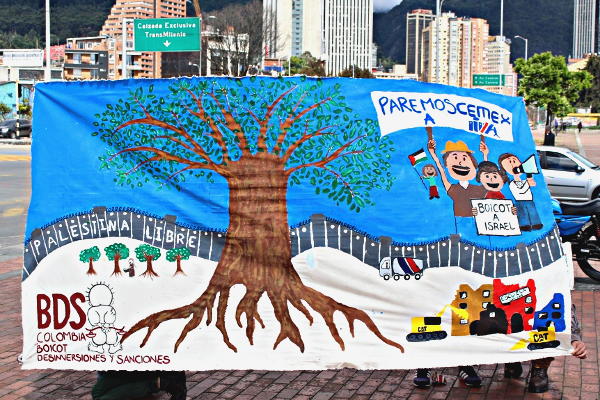 1. ¿Qué hace Cemex en Palestina?
Cemex tiene plantas de producción en los asentamientos israelíes ilegales en territorio palestino ocupado por Israel y construye el Muro ilegal y los asentamientos israelíes ilegales. Más información…
2. ¿Cuál es el problema con las actividades comerciales de CEMEX en territorio palestino ocupado?
Violan los derecho humanos y la autodeterminación del pueblo palestino, la ley internacional y la Constitución de México. Su impacto es devastador para muchas comunidades. Más información...
3. ¿Existe alguna forma real de impedir que CEMEX continúe con estas actividades?
Sí. La presión internacional ya ha tenido impacto sobre Cemex y logrado la primera victoria por los derechos humanos.
La Ley Internacional y las leyes mexicanas obligan a Cemex a no facilitar y lucrar con la construcción del Muro y los asentamiento ilegales porque violan los Derechos Humanos del pueblo palestino.
Por esto, Cemex fue denunciada por sus violaciones en las Naciones Unidas ya en el 2012.
En 2013, Cemex fue excluido de la cartera de inversiones de Nordea, el mayor grupo de servicios financieros de la región Báltica, con sede en Estocolmo, por "violación de los derechos humanos y extracción de recursos no renovables de un territorio ocupado".
El movimiento palestino de Boicot, Sanciones y Desinversiones contra Israel (BDS), logró en Junio 2015 que la aseguradora noruega KLP retirara sus inversiones de Cemex, por su participación en la construcción del Muro y asentamientos.
Esta presión internacional logró que Cemex vendiera sus acciones en la cantera de Yatir, la cual está localizada en un asentamiento ilegal cerca a la ciudad palestina de Dhahiriya en Cisjordania.
4. ¿Cuál es la postura de CEMEX?
En el 2011, respondió a Business and Human Rights Resource Center diciendo que sus operaciones en Territorio Ocupado Palestino no son ilegales ya que Israel no las considera así.
Esta postura legal es completamente insustentable y refutada, entre otros, por los Abogados por los Derechos Palestinos.
__________________________________________________________________________________________
Frequently Asked Questions
What Is Cemex Doing in Palestine?
Cemex has plants in several illegal Israeli settlements in the Israeli-occupied Palestinian territories. It also builds the illegal Wall and illegal Israeli settlements. More information…
What's the Problem with CEMEX's Business Activities in the Occupied Palestinian Territories?
They violate the Palestinian people's human rights and right to self-determination, international law, and the Mexican Constitution. Their impact is devastating for many communities. Más información….
Is There Any Way to Prevent CEMEX from Continuing with These Activities?
Yes. International pressure has already had an impact on Cemex and has achieved our first victories in this campaign for human rights.
International law and Mexican law require Cemex to not enable and profit from the construction of the Wall and illegal settlements, because they violate the human rights of the Palestinian people.
That's why Cemex was condemned for its human rights violations in the United Nations in 2012.
In 2013, Cemex was excluded from the investment portfolio of Nordea, the largest financial services group in the Baltic region, based in Stockholm, due to its "violation of human rights and extraction of non-renewable resources from an occupied territory."
The Palestinian movement for Boycott, Sanctions, and Divestment against Israel (BDS) achieved a victory in June 2015, when the Norwegian insurer KLP withdrew its investments from Cemex due to its participation in the construction of the Wall and settlements.
International pressure managed to force Cemex to sell its shares in the Yatir quarry, which is located in an illegal settlement near the Palestinian city of Dhahiriya in the West Bank.
What is Cemex's Position?
In 2011, Cemex responded to the Business and Human Rights Resource Center, claiming that its operations in the Occupied Palestinian Territory are not illegal since Israel does not consider them to be illegal.
This legal position is completely indefensible and has been refuted by organizations such as Lawyers for Palestinian Rights.